What's in store on your first visit to a cosmetic surgeon?
Colorado cosmetic surgery is top notch in its field for providing local clients the best results. Cosmetic plastic surgery is a mainstream treatment for more than 6 million Americans. If you're looking for board certified plastic surgeons Colorado Springs, its essential to do your research before choosing.
Cosmetic plastic surgery is associated with having the ideal figure and the ideal face. So you should ensure that you locate the correct cosmetic specialist to perform the surgery. Finding a board certified cosmetic specialist will play a major role in how satisfied you are with the outcome.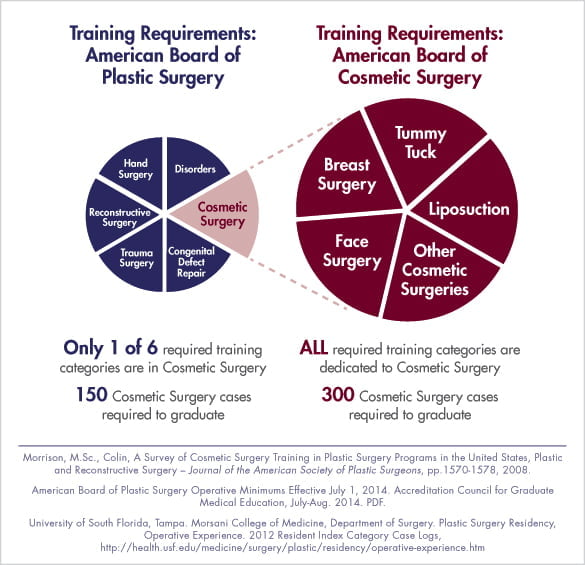 Graphic Provided By: American Board of Cosmetic Surgery
You can expect a number of things to happen when you go to your first visit for assessing your needs with cosmetic plastic surgery. This will help in setting you up for the surgery and will ensure that you are informed and knowledable about all steps leading up to surgery as well as the recovery process.
Finding a specialist who does a through check into your history, previous procedures and any genetic predispositions to surgery and recovery is essential.
The cosmetic specialist will be required to do a physical exam and assessment to make sure your body is in the best optimal state to receive a positive outcome and desired results.
There are surgical procedures that are more common than others. Here's a list of the top 5 plastic surgery procedures in Colorado:
Tummy Tuck
What is a tummy tuck? Abdominoplasty or "tummy tuck" is a cosmetic surgery procedure used to make the abdomen thinner and more firm. The surgery involves the removal of excess skin and fat from the middle and lower abdomen in order to tighten the muscle and fascia of the abdominal wall.
Who's the best candidate? Women who have had several pregnancies may find the procedure useful for tightening their abdominal muscles and reducing skin. A tummy tuck is also an option for men or women who were once obese and still have excess fat deposits or loose skin around the belly.
Mommy Makeover
What is a mommy makeover?
Many plastic surgeons are now offering what they call the Mommy Makeover, which addresses a woman's post-pregnancy body issues in a single-session surgery that typically combines the following: Tummy Tuck. Breast Enhancement – Lift, Augmentation. Fat Removal with Liposuction.
Breast Augmentation
What is a breast augmentation?
Augmentation mammoplasty, or breast augmentation is a surgical procedure to increase the size, shape or fullness of a woman's breasts. The surgeon places silicone, saline or alternative composite breast implants under the chest muscles or breast tissue.
The best candidates for a breast augmentation are those who have:
Small breasts
Asymmetrical breasts
Drooping or sagging breasts after pregnancy and breastfeeding
Changes in breast size or shape due to weight loss
Reconstruction after surgery to treat breast cancer
Cosmetic improvements after breast reconstruction
Liposuction
Liposuction, also called lipoplasty, liposculpture suction, lipectomy, or lipo, is a type of cosmetic surgery that breaks up and "sucks" fat from the body. Most commonly, liposuction is used on the abdomen, thighs, buttocks, neck, chin, upper and backs of the arms, calves, and back.
If you've done research into a liposuction procedure you have have heard a term, Tumescent liposuction, which is considered by many cosmetic surgeons and patients to be the safest and most effective form of liposuction surgery. This technique involves a large volume of very dilute solution of local anesthesia (lidocaine and epinephrine) is infiltrated (injected) into the fat beneath the skin, causing the targeted area to become tumescent, in other words, swollen and firm.
The term laser lipo, which may also be another familiar term, is a new cosmetic procedure to remove body fat, claimed to be as effective as traditional liposuction without a hospital stay. The laser lipo suction technique uses lasers to break up fat before its removal from the body, reducing the need for harsh suction.
Rhinoplasty
What is a rhinoplasty?
Rhinoplasty is surgery to reshape the nose. It can make the nose larger or smaller; change the angle of the nose in relation to the upper lip; alter the tip of the nose; or correct bumps, indentations, or other defects in the nose.